The visit here by our family gave us an opportunity to see again some favorite things around Wellington, especially with different twists. (Click here for our post about these.)
We also arranged to do some new things, though these echoed many pleasures we had already enjoyed here. Read on…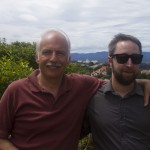 Boxing Day party – We've written often about the best assets of city and country here: the gracious, neighborly people. And our long stay in Wellington has given us the chance to socialize with a lot of residents. But we've never been to a party on Boxing Day, the holiday on the day after Christmas. So we were fortunate that a friend invited us to her traditional Boxing Day BBQ – BYOB and haul in the leftovers from the previous day's feast. We thought the family would enjoy meeting her, her family and friends of all ages. The gathered group came from central casting in a way, a perfect representation of the kinds of people we have met: informed, talkative, thoughtful, witty.  We were right: the family enjoyed their company and the experience as much as we did.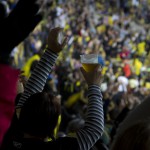 Football at Westpac Stadium – We had never been to Westpac Stadium, whose 35,000 capacity will be filled soon with attendees at the Rugby 7s international competition. That's as much a party as an athletic event, for Courtenay Place and Cuba Street teem with 100,000 people dressed in every manner of extravagant costume. It feels like a mix of Halloween and New Year's Eve at Times Square. Our last time in New Zealand, we unwittingly arrived in Wellington during the competition; our enjoyment of the craziness was one reason we came back here to live. This week, while the family was here, we had hoped to attend a regular rugby game, but league play is out of season. The only event at the Stadium was football/soccer instead, with the Wellington Phoenix against the Heart from Melbourne. Even with just 6000 people attending, we had great fun sitting in mid-stripe seats and cheering a come from behind victory by the home team. Even bad beer or just OK food didn't dampen our excitement in the pleasant night or that of the voluble fans near us. After two goals against the Phoenix that seemed to transfix its goalie, he finally made a diving save. "He moves!" yelled the amazed fellow behind us, "He actually moves!" With ten minutes remaining and the Phoenix leading, the Yellow Fever – a larger cheering section of hometown rowdies – stripped to the waist, as is their custom no matter what the weather. Men and women alike. Our section stayed clothed.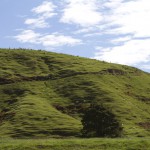 Hills, streams and beaches– We've had no car in Wellington except when we took trips out of town. It's a compact place so we walk everywhere; good bus transport filled in the rest. But, with a car hired for the week, we had the chance to range a bit farther and show the family more of the New Zealand landscape, including the beaches of the Kapiti coast. So we drove north about 35 kms/20 miles to Upper Hutt, a more remote suburb of Wellington, then traced the edge of the Akatarawa Forest on a side road all the way to the western beaches at Waikanae. We passed through landscape familiar to us, but reminiscent of Hobbit-land to the family: native bush, forest, farms dotted with sheep and cattle, narrow roads twisting up and around the archetypal crinkly hills, and a hilly descent to the shore.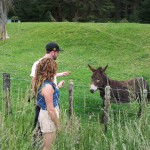 Along the way, we hugged a great pine tree, peeked at a sculpture garden nestled in the woods and fed grains to a friendly burro – then admired wonderful overviews of the Akatarawa River far below us. Once at the shore, we went a bit farther north to delve into the adjacent Tararua Forest for a picnic. That side road was even slower, full of hidden turns, narrowing to one lane at times and bumpety-bumpety on dirt at other times.  The road ended at Otaki Falls on a narrow river, where we found dozens and dozens of people in a spot we expected to be secluded instead.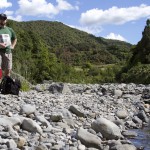 We nearly left in disappointment, but were so hungry for lunch that we decided to cross the suspension bridge and see if we could find a bit more quiet. Happily, in just ten minutes, we found a rocky beach upstream, tucked beneath nearby hills, a delightful swimming spot adjacent to a waterfall and grotto. Far upriver more hills receded from us in a heavenly green landscape. We never wanted to leave.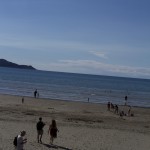 Later, on the picturesque broad sand beach of Waikanae, just across from the Kapiti Island preserve, we found the ocean waters pleasant but hardly a match for the refreshing river we had just enjoyed. Even the crabs seemed to send us back as they nipped at our feet in the sea.
Cape Palliser and Martinborough– We have seen so many coastal areas in New Zealand that one more seemed redundant, but skipping Cape Palliser would have been a big mistake, as we discovered. The roughly two hour ride was agreeable enough, including a lengthy steep gorge to pass through. Toward the end , within the Wairarapa region that attracts the well-heeled like James Cameron, we took in pleasant views of Lake Wairarapa and the flat farmland around it. Even greater pleasures came from the drive around massive Palliser Bay which lies east of Wellington Harbor.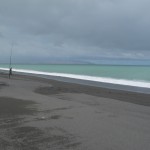 First, we wandered a pristine black beach in the middle of the bay by Lake Onoke. The only others on the beach were three fishermen who kept tossing unwanted red cod back into the sea. Two small eviscerated sharks lay nearby. Hundreds of feet back in the dunes, banded dotterels chattered incessantly on their nests like gossips. Some of us dove into the cold water. Then, we followed the long circuit east to the cape itself. As we rose occasionally onto headlands, the bay arced grandly beneath us. One of these rises called the Pinnacles was ghostly grey, stripped to dusty rock by erosive forces. Just past the small town of Ngawi, where large tractors haul fishing boats into and out of the sea, a seal colony offered gleeful entertainment.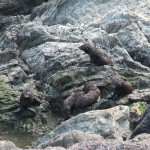 We had seen many colonies before in New Zealand, but never had been able to walk so closely into one. Some huge males dozed warily; some prowled about to ensure no violation of their primacy. A dozen pups bleated at the edge of a pool amid the rocks, sheltered from ocean waves. Other adults lazed on the crags nearby, while some cavorted in the sea at shore's edge. After a while, several wriggled our way, perhaps a bit testy at our long stay in their midst. We wisely withdrew. After this we had intended to make a few winery stops in nearby Martinborough, home of excellent pinot noirs and various white vintages. But our long stay with the seals had delayed us past closing time, and we have all done winery tours in the past. So, Plan B, enjoying a tasting in town.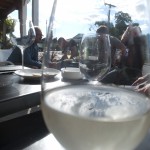 The Micro wine bar did the trick wonderfully. Some of us tried a flight of 5 different white wines; others tasted 5 pinot noirs. Meanwhile, three of the local vintners (whose wines were represented in our tastings) showed up to share, of all things, a beer.  We struck up a conversation with them, learning a lot more about local wine-growing conditions than we would have learned at a vineyard. One was the owner of the Ata Rangi vineyard whose notable Pinot Noir fetches $60 per bottle in the store. Much better than a tasting room any day.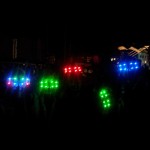 New Year's Eve – Though many of the top clubs in town offered live music on the 31st, the ones we tried seemed a bit muted in their festivities. Perhaps that's because the students – and a good part of the town – go away during this week; perhaps it's because of the big music festivals in Martinborough, Gisborne, Coromandel and other North Island spots. Perhaps the blustery weather upset more than just the city's planned fireworks; or perhaps we didn't really find the best public parties.  Still, we had a good time and a bit of mellow dancing at a few favorite spots like the Matterhorn and Southern Cross, as well as the yet untried San Francisco Bathhouse, but the live bands at those places finished relatively early. With one of us leaving at 5am for a flight, we made the evening an all-nighter anyway, finishing with brandy and cigars on our deck, as the gilt sunlight glowed over Mt. Victoria.
Some things new; some things old – all made memorable by sharing them with family during the holiday season.
(Also, for more pictures from New Zealand, CLICK HERE to view the slideshow at the end of the New Zealand itinerary page.)