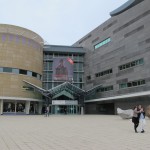 It's a Kiwi smorgasbord: a display of Maori cloaks woven over a two hundred year span, an exhibit of European fine arts collected by the wealthy here, a "colossal" squid from the Pacific depths splayed out in an exhibit case, a natural history of violent forces (earthquakes, volcanoes, storms), on these Shaky Isles, the historic tale of the transformation of native forest into farmland, a display of issues in New Zealand's own culture wars during the 20thcentury, an exhibit of native bird illustrations rivaling Audubon's, a virtual rainforest and glow-worm cave,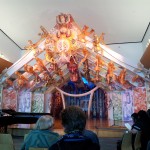 a choral concert of contemporary American classical music composers against the backdrop of a colorful, contemporary Maori marae or meeting room, a thrill ride into a Pacific Ocean trench, an examination of the symbolic nature of uniforms, a history lesson on the Waitaingi treaty between Maori tribes and European arrivals…and, wait, there's more.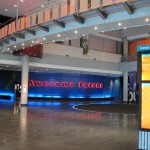 These are some of the things you can experience on any given day at the amazing Te Papa, an amalgam of a natural history museum, fine art museum, science museum, concert venue and perhaps a few other institutional bits as well. It's a journey through eons and worlds, plus it's all free to the public. On its sprawling six floors, Te Papa ("Our Place" or "Our Homeland") aims to show the people who live in New Zealand, or visit it, the roots of the country's natural splendor as well as the diverse cultural heritage of all its people. Though mostly that means the native Maori and the European settlers, the increasing Asian population gets its coverage too. In August, Te Papa became a wedding hall as a dozen Thai couples – before their families, friends and casual onlookers like us – got married with all the traditional ceremonial trappings. This last Sunday, even Persian music filled the marae.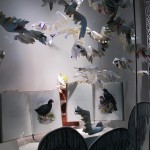 So here are some of the exhibits we've enjoyed in our last few visits.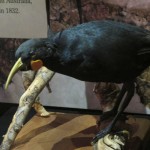 Just last week, as Friends of the museum, we were invited to a members-preview of a splendid exhibit of European fine art collected and then donated by wealthy Kiwis to a number of museums across the country. Ranging from religious work back to the 14th century and works by Italian, Dutch and other masters, the exhibit modestly illustrates thematic developments into the 18th century, as subject matter shifted from religion to landscapes to portraits as the buyers of art shifted as well. It's a fine collection that might miss out on many of the big names of each period, but demonstrates its themes with some excellent work by relative unknowns.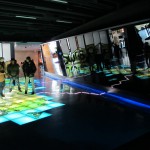 We revisited the permanent exhibit of the powerful natural forces that have shaped the islands geologically – volcanos, earthquakes and weather – and continue to affect its residents today. You can experience a modest earthquake in a mocked up home and learn how to retrofit your own in a video game. You can see, and feel, the power of volcanic activity, such as that which recently shook the mountains of the North Island and dumped ash everywhere. And you can try to identify the complex weather patterns that whip out of the Tasman and Pacific in confusing variations.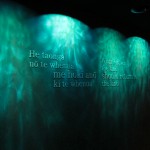 We had zipped virtually inside the caldera of an undersea volcano in a capsule that bumped and wobbled with the visual action, then a somewhat cheesy thrill ride through some Kiwi landscapes and pleasures, where your seat shakes, rattles and rolls as you become variously a biker, rugby player, rubgy ball, deep sea diver, hill sledder and a number of other things.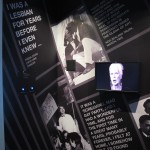 We wandered through the decades of the twentieth century, with displays of collectibles, broadsides and journals from each period, and brief overviews of some contentious culture wars of the past 50 years as native Maori, New Zealand women and gays and asserted their rights. In this way the exhibit questioned to what extent the country was the "slice of heaven" that people thought of it. The images and issues were familiar, as if drawn from similar periods within the United States and Europe, but with a local perspective on how these rights had been affirmed through legislation.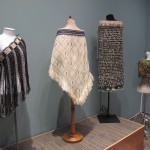 In an exhibit entitled "Kahu Ora" or Living Cloaks, we learned more about the wraparound garments that have protected Maori from inclement weather for centuries, with many elaborate interweavings of flax leaf, feathers and hides. The ones with the rarest materials and finest handiwork belonged unsurprisingly to the chiefs, as emblems of their power. The European influence after 1850 altered the designs, but not the interest in applying artistry and craft to these practical and ceremonial garments. Along with the cloaks from the past, the display included more contemporary work by artists aiming to revive the craftsmanship and cultural heritage of the past. In a side room, some of them demonstrated the painstaking work needed to weave such cloaks by hand. How can you be so patient, we asked one of them. It takes a year to complete a good cloak, she responded, but in each session I get into a kind of meditative trance. Even today, apparently, this work lives in a kind of spiritual space for those who dedicate themselves to it.
The curatorial staff of Te Papa must be extraordinarily diverse and certainly must stay very busy in creating exhibits that range so widely across high and low culture. But that's why the grand melee of Te Papa is such a slice of heaven.
(For more pictures from New Zealand, CLICK HERE to view the slideshow at the end of the New Zealand itinerary page.)