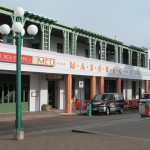 The evening started so well. After sailing along on general questions and geography, we foundered on sports and, worse, the names of rock-band drummers. Yes, it was Wednesday Quiz Night at The Rose, a pub near our hostel in the back of the sleek and trellised Masonic Hotel, one of Napier's deco delights.
We hadn't planned to try Quiz Night, this second evening in town, but we were relaxing at the Rose after the rigors of being escorted from winery to winery in the Hawke's Bay region. Quiz Night just appeared around us.
During the day, we had made new friends of people from Australia and Canada. Tonight, however, there were few chances for conversation. When the bar was quiet before the Quiz, we talked a bit with the woman bartender who shared some of her ambitions with us. During the Quiz, most of the 75 people huddled with members of their team, zealously competing to win the prizes. The Quiz Master, who sat near us at the bar, bantered with us, publicly acknowledging our Texas origins along the way, but had little time to talk.
By ourselves, then, we gained a top three standing early on, helped in part by some gimmes ("What is the Lone Star state?"). Then, dragged down by Kiwi-centric sports jargon and questions ("Who scored the first goal for the All Blacks rugby team against Australia?"), we were soon passed by the locals to finish barely atop the bottom three.
The previous night at the Rose, however, was quite different. We found ourselves talking with an unusual group of Kiwis who, like us, were just in town for a few days. Employees of the country's gambling regulatory department, they were travelling around the country to work on halting addiction to gambling. As often happens, we found ourselves discussing our travel, as well as American politics and culture with the group. After a few hours, we were good enough friends with two of them to be invited to dinner back in Wellington during September. Strangers one minute; dinner companions the next.
Several times, a beefy young man with their group joined us when he wasn't being called over to the karaoke stage in another room. Our new friends confided that he was Scribe, one of the most famous rappers in New Zealand, who had been speaking with the group on how his finances and career were all but ruined by his gambling until he found a way to break that addiction. With us, he preferred to rave about South by Southwest in Austin, where he had performed recently.
We have enjoyed many such brief encounters in our travels and relish what we learn of their lives. Yet mostly we exit the lives of those we meet as suddenly as we entered them. Making a deeper friendship on the road usually takes a lot more time – a luxury more likely in group sightseeing, or languorous trips on boat and bus rides, or staying put for a while.
And then there are those brief encounters which leave behind not enjoyment, but an open wound of sadness. At breakfast  in the Criterion hostel (or the "Cri"), over morning coffee and leftover curry, we met a burly, limping man, a native New Zealander who like us was a lot older than the young travelers more typical of a hostel. For over 15 years he had been a truck driver out of Destin, Florida, where a hospital had poorly treated his leg after it was busted up in an accident. Now, here he was back to mend his leg and his life, with little in resources to do so. Even while we talked about medical care, he clearly wanted more – to share his life with us, sympathy, answers, something. But we had too little to offer and too little time. We had to check out in a few minutes, redeem the car from the church parking lot, and at last see the art deco city before the long drive back to Wellington.
That curry came from our first night in town, when we shared another's troubles. We ate at a very good Indian restaurant, packed with theatre-goers heading soon to the art deco Municipal Theatre across the street. A young woman on her first night of work tried to help us with our order, but soon yielded to an elegantly dressed, handsome Indian woman obviously in charge of things.
As we ordered, we asked what was playing at the theatre. "Some ballet," she responded. A few minutes later she returned to report instead that the theatre was playing a musical review called "Oh What a Night." Not ballet, but Frankie Valli. We laughed, not just at the mix-up, but because Nancy loves that song – which centers on a "mesmerizing" dream night with a woman, one which "ended much too soon." We kept chatting with her amiably on matters we couldn't later recall.
After the room emptied, she stopped by our table to talk further. She would not be working at the restaurant after that evening, she confided, so she could have time to manage treatment for a blood cancer which doctors said would kill her within three years. Why leave, we asked, stunned. The restaurant was her parents', she said, and she dared not share her condition with them. As we had been dealing with the needs of Nancy's own ill father, we proffered that her family would want to know and help, and just be there for her. Tearing up a bit, she countered that she really needed the distance for herself, for she felt that her parents would be overwhelmed emotionally and so overwhelm her.
Why was she telling us this? What could we possibly offer her, we asked ourselves as we wished her well, except a stranger's brief empathy?
Travelling on, we're not likely to see this woman again, nor the hobbled truck driver at the hostel, or know anything about how their stories finished. For a few moments they revealed to us a dark part of their lives, and left us troubled about the limits of our response to their opened hearts.
On Quiz night, the streets of Napier offered people many opportunities for connecting with others:  from the Rose pub to the "dodgy" bar down the street, from the fancy restaurants to the never closed Chinese diner, from the intimate wine bar to the boisterous club on the ground floor of the "Cri," pumping rock music from its dance floor. But we couldn't answer the lonely question posed by the hostess and the trucker.
We slept uneasily, awaking at 3AM to the ongoing din below us and the dance music echoing up to our room: it was Frankie Valli singing, "Oh What a Night."
(And for more pictures from New Zealand, CLICK HERE to view the slideshow at the end of the New Zealand itinerary page.)