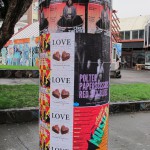 We've been noticing a distinctive feature of the Wellington streetscape, the many poster stands at major street corners in town. These are metal cylindrical drums about 7 feet tall and two or three feet wide, purpose-built to accommodate a flock of colorful notices about events in town. Though these posters come in all sizes, mostly they are not small scraps of paper, but colorful two foot by three foot placards expensive in look and suitable for framing on a wall at home.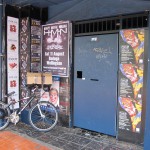 You surely see posters in other spots, on street-side walls that appear to welcome them, as well as at the margins of less well tended buildings, whose landlords would consider them defacement. Posters are everywhere. So, one suspects, this urge (or need) by event producers and venues to wallpaper the town dates a long way back.
For this is a walking town. Even with all the buses trundling along the narrow streets and with a brief rush hour that sees some streets clog up, pedestrians dominate the inner city. At all times of the day, people are on the move in this town, on foot. Waiting patiently at intersections for the signal to cross, their eyes readily wander to these attractive posters affixed to the nearby cylinder.
You might think that postering would be less important here with the extensive coverage of such events by both free and paid print media, as well as the very complete listings from several online sources. Apparently not, in a city of pedestrians.
So the city must have recognized that, with all the many events gracing a city this size along with the foot traffic, a postering culture was inevitable here. In response it deployed these cylinders to relieve local buildings of the promotional burden, safe havens then for both promoters and landlords.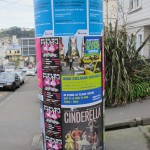 But the competitive pressure is still on, and vicious. It seems that every night another wave of posters appears on each of these cylinders as if by magic, for you never see anyone actually postering. Our local stand, for example, aims to attract attention from the unending flow of students and faculty between Victoria University and the central city. On the stand, you can learn one day about the Royal Ballet's production of Cinderella, read a couple of poems in large print (one of which entitled the Wind was a short, trenchant illustration of the sad naturalness of prejudice) as exemplar of regular poetry happenings here, explore what's playing at the New Zealand Film Festival, and be enticed by the harborside Circa Theatre to "West End Girls," a play about prostitutes. The next day the poems are displaced by a notice of free music at some local clubs, Cinderella has vanished below news of a travel expo, and the Film Festival – even in its early days – has been dispatched to the cutting room floor by the Gluten Free Food and Allergy Show.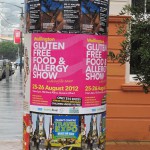 As you might guess, the tactics of those who poster primarily consist of breadth and overwhelming numbers. You want to put the posters in as many spots as possible to attract more people, and you put up not one poster, but four or more on the same cylinder, in hopes that a few might survive the inevitable attack by your postering competitors.
Yet, for a Wellington walker, these ever-changing poster mashups show off a city with a vibrant array of things to do, and conveniently entice you to those events as they continuously overlay each other.