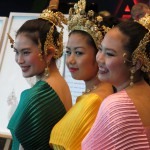 What better to do on a chilly, showery day than go to the Te Papa museum and experience how Thai couples get married.
We had been to Thailand just nine months ago, where we missed out on a wedding ceremony for a relative of one of our guides. This then was a fine way to remember that visit, practice our wais (salutatory bow), our sawadees (hellos) and our khop-khun-kas (thank yous)…and discover what we missed.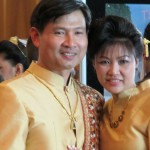 Te Papa, the country's National Museum, normally celebrates the country's natural history, cultural heritage and art – particularly its native heritage. But yesterday it hosted nine couples for a Thai marriage ceremony in the atrium lobby, one large enough to accommodate participants, families and gawkers numbering in the hundreds.
You should know that New Zealand mostly celebrate its multiculturalism now, though back in history the native Maori people were often pushed aside or bamboozled. Over two-thirds of the population is still European, mainly derived from Great Britain, Ireland and Scotland. About 15% are Maori. And now almost 10% are Asian, with 7% more who are Pacific Islanders in origin. Bigots may make some noise here, as they do everywhere, but the open and welcoming nature of most Kiwis now appears to include embracing all minorities.
So the idea today was that this public ceremony could honor a host of things important to one minority in New Zealand, Thai people, and thereby help the rest of us appreciate those things.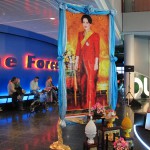 There was the lucky number nine, of course, and the usual marital triumph of hope over experience. Sunday, moreover, was Thai Mother's Day, so the mothers were appropriately adorned with bold colors and beaming faces. Flowers bloomed everywhere. It was – not just by happenstance, I think – also the 80th birthday of the Queen of Thailand, Queen Sirikit, whose palace grounds we toured in Bangkok.
Since Thai weddings often last three days, and this one lasted just three hours, it's hard to tell how authentic it was. The absence of a Buddha image for prayer seemed a serious omission, even with its virtual substitute, a paper poster of the Queen, bigger than life, with tributary displays in front of her. Some other elements were clearly traditional, and some perhaps more convenient. Near the feast table, another set of posters showed various couples happily getting married in beautiful settings within Thailand. I guess if you didn't qualify for the nine weddings here, or would have made an unlucky tenth, then you were supposed to book your passage to Thailand to remedy the loss.
To start, anyway, the grooms marched around the building to raucous drumming and clanging During this prelude, we happened to be standing next to the Thai woman who was hosting the show. She appreciatively acknowledged our sawadee greeting, hands clasped like a prayer at the chin and with a slight bow, noted the difficulty of the language beyond hello and thank you, explained what was about to happen and finally admitted she had never been to Thailand.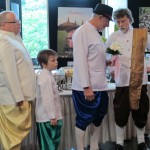 Next the grooms "bartered" their way past a friendly gauntlet of three stations marked by bronze, silver and gold chains in order to join their brides.
You couldn't help but observe, however, the surprising multicultural demographic of the couples. In all but one couple of the nine, a woman who was clearly Thai was getting married to a man who was clearly not. Only one groom was an ethnic Thai male.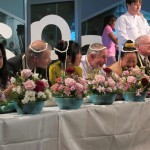 Odder still, most of the couples were older, with most of the greying men looking pretty long in the tooth for a new groom. The presence of at least one young child at the wedding table suggested these might not have been first marriages for many of the participants. How fitting that the gracious Thai people – particularly Kiwi ones – happily celebrate any marriage, whether within the ethnic group or out, and whether due to a younger passion or an older embrace of a new marriage's possibilities.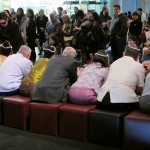 The couples then sat at a long flower decked table, leaning uncomfortably forward from their cushioned benches. The Thai ambassador to New Zealand crowned each person with a white yarn halo connected by more white yarn to their partner's halo, symbolic of their bond. The couples looked like very colorful angels from medieval paintings.
After several explanatory and celebratory speeches from our host and the ambassador, the audience was invited to offer the couples sweetened water as a wish for a sweet marriage.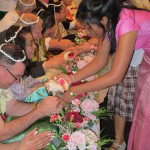 Queuing up in good local fashion, dozens of attendees filled sea shells from a cistern of the honeyed water and filed down the table pouring a bit of it into each couple's bowls. After a half hour or more of that, it was time for the Thai anthem and a song for the Queen that sounded distinctly British in character, both led by a man who looked like a colonial Englishman and sang loudly off-key.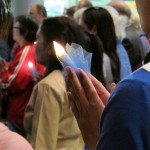 That was enough for us. Though the table laden with fruits and other goodies tempted us to stay for the next hour, the ceremony had already felt like three days, so we left to seek shelter from the continuing rain, with thoughts of a nearby Thai restaurant.
(For more pictures from New Zealand, CLICK HERE to view the slideshow at the end of the New Zealand itinerary page.)