So what's it like to go to the movies in New Zealand?
We are fortunate right now that a major local event, the New Zealand International Film Festival, is bringing dozens of notable films from around the world to town.
Otherwise, there do seem to be some small theatres that regularly show films like those at the Festival, akin to the Angelika in Dallas. But we've noticed several megaplexes around town showing a lot of American movies like The Dark Knight Cometh, err Rises, and assorted high-toned others like Step Up: Miami Heat, Magic Mike, Ted and their ilk.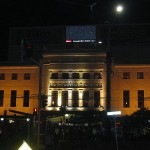 Anyway it was the festival that took me to the Embassy Theatre the other day for one of only two showings of Beasts of the Southern Wild, a critically praised film (rightly so) that we missed before we left the States.
Built in a neo-classical style in 1924 as the De Luxe movie theatre, the Embassy has been renovated and rejigged a few times, most notably in 2004 for the world premiere of Peter Jackson's Lord of the Rings. As a result, in its main hall upstairs, an enormous screen sprawls in front of 800 terraced seats, quite appropriate for the showings later that evening of the Batman movie.
This restrained, unadorned architecture reminded me more of a turn-of-the-20th century orchestral hall than those Egyptian palace and art deco cousins of the same period back home. But, downstairs in the old orchestra pit, they've recently added a couple of intimate, hi-tech 70 seat rooms which we will have to experience some time. For showtimes, see http://www.eventcinemas.co.nz/cinemas/the-embassy.aspx.
I seated myself midway up about 20 minutes before the start time. The theatre held maybe a hundred people already. Near me a couple of women were conversing about the Industrial Revolution. A patron in front of them was perusing the New Yorker magazine. No one seemed to be staring at a phone. The couple occupying the aisle seats two rows up were sipping white wine in glasses. A stately woman traversed the front row carrying a tray for high tea, complete with cakes and a china teapot, cup and saucer. Even without the Kiwi accents, you could tell you were not in an American theatre.
Within those twenty minutes, hundreds more streamed in, mostly youngish or greyed, as you might expect for a late afternoon crowd. Two minutes after scheduled start time, over half the seats were filled, and the movie – without all the usual commercials and previews – began. No one arrived late.
Throughout the movie, the audience was still. Not just quiet, still. Except for two anomalous moments when you could detect noisy candy wrappers somewhere in the hall, there was no talk, no crinkling, no rustling, and definitely no babies burbling. You couldn't even hear the clink of the tea cup on the saucer. It was more silent than our living room with just the two of us, and that group hush made the soft moments of the film feel even more powerful.
I also couldn't keep from wondering what these Kiwis made of the movie. Though the themes and emotions were universal, the Louisiana delta accents were tough enough for me to catch and the hovels where the central characters lived must have seemed more like the third world than America to the audience. Unhappily, I didn't really have a chance to hear reactions. There was little discussion as people exited the theatre, as is common with films ending with intense emotion. Mostly they left as silently as they sat.
Enrapt too, I was heading straight toward the staircase, when the sprawling concession stand and bustling lobby caught my attention, for it mixed elements you might expect at symphony hall or a play, as well as at a movie house.
On offer at the sweeping 60 foot bar were the usual American concessions, sodas from push dispensers, popcorn and large candies. But you could choose very different fare as well: beer and wine, half a dozen flavors of ice cream actually scooped into cones, three kinds of hot nuts attended by a young man very eager to serve, and – what's this? – home baked cookies and muffins in glass displays. It was more like an old drug store soda fountain (plus popcorn), the kind you find surviving in small towns to charm the tourists.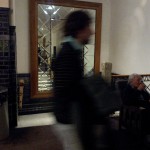 On the other end of the lobby, a long line of people queued up at a fully stocked bar offering mixed drinks and specialty wines, as well as indigenous meat pies and other small plates. After paying, they eased into comfy chairs scattered around the circular opening to the staircase or gathered around tables to chat in the darkly lit lounge just across from the bar.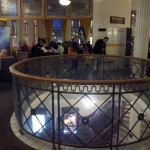 It was hard to tell whether they were heading into the next movie, or leaving from this one, but they were quite pleased, it seemed, to dawdle here whether there was a film to see or not.
Perhaps the experience at one of the megaplexes here would be more typical of American movie-going. We'll likely find out soon. In the mean time, I'll pleasurably come back to the Embassy.
Note: Nancy has returned for a while to the U.S. to help with the care of her ailing 93-year old father, and related family matters.
(For more pictures from New Zealand, CLICK HERE to view the slideshow at the end of the New Zealand itinerary page.)