Many of you will have forgotten all the startup issues to be settled when you move from one home to another. We've rented at least a hundred places for vacations over the years, even for lengthy stays. Mostly, though, we've had little startup except to orient ourselves to the city layout, find our favorite food markets and locate stores for miscellaneous housewares.  But those explorations are part of the fun of learning how a new city or country works, what kind of foods locals choose, or how their doodads differ from ours.
Here, however, in our first week, we had to set up utilities, figure out the trash and recycle system, as well as arrange for phone and internet access, just like locals renting for a long-term, but without the locals' know-how. And it's been a cultural experience of a different sort.
Wasting away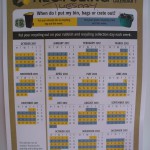 With just a few hints from the rental agent about this – a vague requirement for yellow bags and green bags and wheely bins and green baskets – we inquired at the Town Council/City Hall about the details. The friendly agent looked up our address, then handed us the applicable green and yellow Collection Calendar (schedule #1). She carefully explained that glass goes curbside in a special green bin on Tuesdays one week; then, Tuesday on alternating weeks, other recyclables go out in green bags. We knew we had a stash of green bags in the kitchen, and fortunately did not buy the green bin at the office for $15 as we found one later hiding in the garage.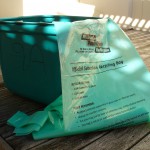 What about trash? That goes out to the curb weekly on Tuesdays as well, but in the yellow bags you can purchase for 40 cents each, presumably to pay for the service. We could instead hire a private service that would supply us with a wheely bin (a trash bucket that rolls), as our neighbors have done. Another contracted service seemed more than we could stand, so we opted to buy the yellow bags, particularly because we generated so little trash back in the U.S. that we only dumped trash every two or three weeks anyway.
Horse (power) and buggy (internet)
Contrary to logic and efficiency, our landlord/real estate agent insisted that we create an account of our own for gas and electric. To do so meant that six months from now, our landlord will be cut off or have to reinstate service, an unnecessary hassle they could have avoided if they had just billed us for the utilities, but that's their choice.
Forewarned, and months before departure, we called their recommended provider, Contact Energy, via Skype and, after a casual friendly conversation, the agent at Contact agreed to set us up a few days before arrival. No worries about establishing credit or a bond (deposit), even if you are Americans. Just contact us when you arrive to set up payment. We felt transported back 100 years to a small town era when arrangements were made on trust, even with a company…and via Skype no less.
True to their word, Contact had the gas and electric working perfectly when we arrived on Saturday. And it was so easy that we nearly forgot to follow up. But Wednesday morning we had an equally congenial conversation. No rush about setting up payment, or worries about a bond, but could we fill out the form they were mailing to us for debiting our bank account? And could you just walk up the drive and read the three meters – gas, water heating electric, other electric – so we can get a starting read (now after four days of service)? We thought we should be taking a horse-drawn carriage into town.
By contrast, Vodafone proved the very model of a modern major company, a sad norm very familiar to us from the States. Such companies offer a strange anomaly: you talk to some of the most pleasant people, sometimes local, sometimes clearly in a call center in India, but all of whom are so attentive and eager to help you. And then somewhere in the back rooms amid the tangle of system computers, your order gets completely fouled up, over and over again. To complicate matters, it turns out that Vodafone is just the "beard" for two companies operating more or less apart from each other, the mobile one and the ISP one.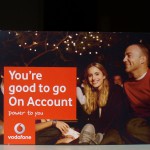 We had already spent several hours skyping Vodafone before we arrived and were assured that, upon arrival, we would have the typical ADSL internet service to the house, and SIM chips delivered for our phones. Instead, we found nothing had happened because our credit check (merely a copy of passport and visa) had somehow gone awry.
Getting the SIM chips proved easy, as a very pleasant woman at the nearby Vodafone store took quite a bit of time to help us, made sure the chips worked and restarted the process back at Vodafone central for our internet service.
Time passes. We start receiving a hailstorm of emails and text messages, alerting us to things we already knew about estimated install dates and account numbers, premature billing options and, alas, credit issues we thought were resolved. An agent gladly straightened out the credit check once again and put us on the fast track for our install. Then, on the verge of success, we received a text about a problem connecting to our Mount Street, Wellington, home in Mount Roskill, Auckland. Auckland? Oh, another agent responded to our call, a technician had somehow entered the wrong information, but we'll correct it right away.
Time passes. Six days after arriving in town, we get the long awaited text message and email announcing service has been activated. Hook up the router, follow the steps and…nothing. Oh, the agent said, it appears that you are not actually connecting to our system; that often happens if you have not had broadband service to your home before. Which apparently was news to them, as it was to us. So they'll have a technician come out to fix it all by 4pm tomorrow…unless he needs to return to get inside. I guess, we offered, we should try to be here? Another hail of text messages about our visitation ensues; and we patiently wait.
At 3pm the next day, our new best friend Ramon arrived to make the hookup. Unhappily, over the next three hours, he kept discovering all the many ways our inside lines had been disconnected from outside lines. In awe, we watched as he tapped into the cable on our remarkably agreeable neighbor's property to supplant wiring removed last month from a new telephone pole, then ran a new line around a cable hacked from our junction box, then – as Barry hung onto his pants while he dangled out the window – joined that to a new wire he hung outside the house to replace another severed as well. In short, with an unflagging can-do attitude, he managed to hurdle every obstacle in his way to give us internet service at last.
The heat is on…NOT
And then there's the startup issue we did not expect. It's been about 40 to 45 degrees F at night and up to mid-50s during the day, a damp cold bolstered by the wind, and we have no heat on the bedroom level of the house. None, except for a modest space heater appropriate to a much smaller room, and – oh rapture – a heater in the bathroom. Unbeknownst to the agency or us, the radiant floor heating system has been broken for quite a while, and no one wanted to fix it as it's expensive to fix and very costly to operate. So it's cold down there.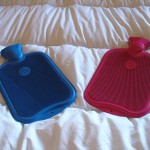 With our usual adaptability over the last few days, accompanied by the usual curses and screams, we found a way to eke enough heat from the heater to defrost the bedroom at night, piled comforters and quilts about a foot high to keep body heat in and then tossed two hot water bottles under the quilts to de-ice the sheets before climbing onto them. (And ooh, warm the feet)
Negotiations about this situation faltered for a while. It seems that a landlord is not required to provide heat, just light, but an undisclosed broken system is a broken promise. So the right solution prevailed: we will soon be supplied with two more space heaters until the warmer weather arrives in 6 to 8 weeks.
Even the best laid plans often go awry. But where would be the adventure if they didn't?
(For more pictures from New Zealand, CLICK HERE to view the slideshow at the end of the New Zealand itinerary page.)