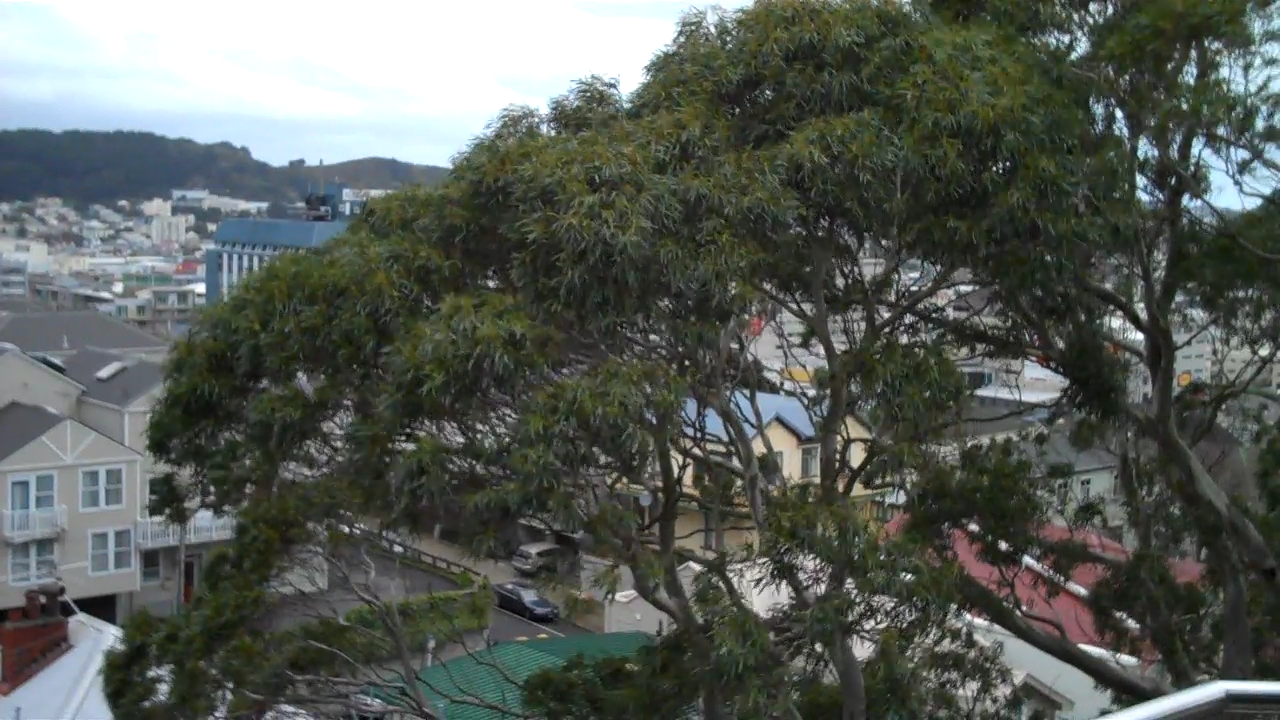 OK, so it's 50 Fahrenheit (10 Celsius to most of the world), raining sideways and blowing up to 35 miles per hour. Yes, we knew it would be winter here when we arrived, and that there had to be a reason this place is called Windy Welly, but today even the locals are worried that their vans are going to blow over and the gusts are threatening to launch the sliding glass windows across the room. (Click the picture and wait a bit to get some idea…)
It was not this way when we arrived. Saturday was a sunny day dotted with light clouds, with at most a gentle breeze and mid-50s temperatures. Walking about was so pleasant, and you could even sit outside to enjoy the Kiwi ambiance, as well as a pint, in the warming sun. Sunday was a bit cloudier, but equally pleasant. And then the real winter arrived.
Not that this slows down the natives. In fact, it actually seems to speed them up. Everyone around here walks very fast. We move pretty quickly compared to Americans, always hustling past people in many cities. Here, though we're often burdened by backpacks stuffed full of startup supplies and groceries, we are constantly being lapped by Wellington citizens.
Kiwis also speak very quickly, as if both legs and breath must outrun the winds  around them. One waitress the other night seems to have recited the whole menu in about 12 seconds; Barry needed the hearing impaired version to figure out what to order.
In all this, Wellingtonians most resemble the haste of New Yorkers, with an equally distinct accent. That resemblance is true in their dress style, as well. Winter in New York brings out the black coats and dark tints and charcoal suits; just so, here.
Nonetheless, the weather might be cold, and the pace might seem fast, but neither is true of the people themselves. Though they cram a lot of words into a few minutes, they never seem to worry about how many minutes it takes to connect with you. And they don't hesitate to tell you their life stories, as if they've just fallen out of an airplane and they need to pass their whole lives before you in the next minute.
Jeff the handyman, for example, walked in the door, asked us where we were from and then proceeded to give us a 10 minute monologue about his travels around America (lived in Queens, learned the food business in Virginia Beach, travelled with his family to Disneyland and San Diego, then – in a Hunter Thompson sort of experience – slept in a car while his entourage enjoyed Las Vegas), his experience with guns (carried a knife since a child, was taught to use a gun and cautioned to carry it while making deliveries in Virginia, got rid of them when his brother committed suicide, and then picked them back up as collectibles subject to the more rigorous requirements for possession in New Zealand), and sundry other life events.
At the Wellington Town Counciil, or what we would call City Hall, a clerk was pleased to take the time to tell us all about the system for refuse and recycle pickup, share some delightful local experiences we should not miss, tell us about the bus system and direct us to a half-dozen people for resolving an issue we were negotiating with our landlord. Similarly, one of those people upstairs in the Health Department sat with us for 20 minutes, sharing her ideas about what we should do and lots of empathetic facial expressions. And then we spent a half hour alone in a conference room with a portly woman from the Tenancy Advisory Group of the Building Department. She had the time to listen attentively to our story, offered even more specific advice and, at length, explained all the procedures we might need to follow if we needed more help, including line-by-line details on how to fill out the four page form to file a complaint.
Even that waitress with verbal overdrive didn't hesitate to dawdle with us in order to hear all about our plans for staying in New Zealand, and discuss the ins and outs of skiing the Southern Alps. Nor did the customer nearby worry about taking 20 minutes to tell us all about his father's performance at South by Southwest in Austin, ask us for more information on the American music scene, share his own favorite venues like the Copenhagen Jazz Festival, and inquire further about what we would do here.
Wellington may be cold, windy and quick-paced, but the people here warmly take the time to be with you wholly.
(For more pictures from New Zealand, CLICK HERE to view the slideshow at the end of the New Zealand itinerary page.)