For over three hundred years, roughly from the 9th to the 13th century, the kings and the court based in Bagan turned their power, wealth and spiritual dedication into monuments of brick and stone. Over 4000 payas – temples and pagodas – honoring Buddha once filled an area the size of Manhattan.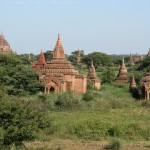 Half remain to see today. Tourists and pious pilgrims bustle over the area – by pony cart, oxcart, taxi, bicycle and foot – to see the grandest of these payas, worship the most revered of the Buddha images, or marvel at the spired landscape. It's the greatest of these and the vast array that should qualify this as a UNESCO World Heritage Site like Angkor. The organization is helping with some restoration, but, till now, for reasons obscure and political, that has not happened.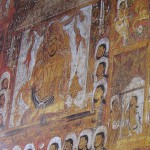 Yet, what thrilled us most, however, was an extraordinary feature of the major royal temples that many do not notice or pay little attention to: the painted frescoes. Not content with decorative patterns along the vaulted ceilings and walls, unknown artists also applied rich colors to these walls and depicted countless Buddhas, endless forms of devotion, scenes from royal life, tales of the Buddha, native flora, and important legends. Most notably in the payas called Gubyaukgyi, outside the old town, and Pahto tha Myarone within it, we could enter a special place and wonder at such figure painting and story telling in frescoes that even Italy would be proud of.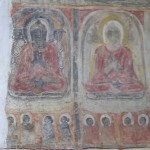 Or really just see, dimly by flashlight. For what's left of the frescoes mostly rests in the gloom of interiors unlit or in pitch dark to avoid more light damage. And so little remains anyway. In benighted efforts to modernize and clean up the pagodas in the 15th century, many of the temple frescoes were painted over in white paint that apparently cannot be scraped away. The earthquake of 1975 shook a lot of the wall stucco into dust, while it also tumbled many of the brick structures. We can only imagine how beautiful the temples must have been. However difficult to see, you don't want to miss or pass quickly by what has survived.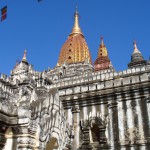 Surely, the most magnificent of these temples are impressive, elegant in proportion or simply imposing in their design. Those in the Burmese style offer open, windowed passageways often two levels deep, a bit like a simple maze. Mon style temples feature dark interiors and more of the fresco paintings, preserved best by the dark.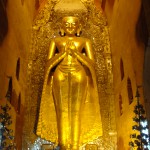 Within many of these are gleaming golden Buddhas dating back as far as a thousand years ago. These are stunning and awe-inspiring works of art, but also powerful spiritual images for the Buddhist visitors. Two of the most notable images stand in the Ananda pagoda, dating from around 1100, whose name has many meanings, including "heaven," for it was built from Indian models as an image of the celestial world. These two Buddhas, each 31 feet high, also date from over a 1000 years ago. But Ananda's walls are mostly white, with just remnants of some simple frescoing in places.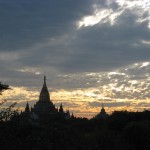 We were impressed by the Ananda temple, the image of heaven, and many of the payas here. In a short visit, though, the numerous temples and gold statues eventually blurred into one big Bagan edifice and infinite spires. But, when we peered at those few frescoed walls that beam out of the darkness, we thought them heavenly.
(To view other pictures from Myanmar, CLICK HERE to view the slideshow at the end of the Myanmar itinerary page.)