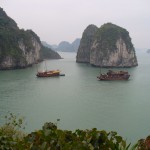 Our final night in Vietnam we spent on a private, poshly-fitted boat in the vast Ha Long Bay, one of the many UNESCO World Heritage Sites we have visited on this trip. Here, amidst more than 2000 rocky, granite outcroppings, you navigate serenely past ever-changing juxtapositions of islets, large and small, formed by nature into myriad shapes. There a dragon, here a haystack; there a jagged ridge, here a placid cove with a village afloat on flats.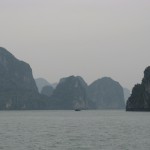 Ha Long Bay, however, has been an important commercial port for exporting coal and other products, as well as importing goods. Visitors to see the beauty jostled with dirtying and certainly unsightly freighters and tankers. Ships came all the way past the green-swathed monoliths without regard for the significance of the bay's beauty.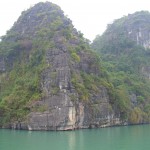 But now shipping has been channeled to support the bay's World Heritage designation and to make the tourist experience a better one. The dirtiest shipping traffic has been diverted to a more remote section of the bay, and in Ha Long itself an inner bay was opened for the remaining commercial traffic, clearing the heart of the bay for visitors to its unique beauty. Even the extensive tourist traffic is controlled through regulations and oversight of the numbers of tourist boats and the places they can go within the bay.
UNESCO's World Heritage designations have transformed entire regions. It works in partnership with local governments and residents to establish permanent protection for cultural and scenic areas of significance. It accomplishes this goal by showing the leadership and local people how preservation, and promotion to tourists, can bring the money needed to maintain the area and, in most cases, improve the lifestyle of those in the area.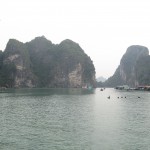 Tourist dollars mean money can be invested to upgrade or restore areas. Increased international interest then promotes more restoration, research and attention. Those who live in and around these sites learn how preservation can be economically beneficial as tourist dollars substitute for other income sources or traditional activities that can harm these sites.
We also saw this in Koh Ker, a former capital of the Angkor kingdom near Siem Reap. Even after Angkor was discovered and restoration begun by the French, this area remained ruined amid dense jungle, a war site in much of the 20th century, not a tourist one. A priority for clearing of mines by the 1990s, this area finally could start clearing and preserving its historical and tourist value. Because of the efforts of archaeological teams from other countries, the ancient sites could now be explored. But, more importantly, the local villagers had to be shown the advantage of assisting this effort and preserving the integrity of the sites. That's where the tourist dollars came in, offering jobs for protecting the sites, serving food, selling souvenirs, and making the sites more accessible. The work continues as there are many temples yet to be restored. But it is here to witness because of the cooperative efforts of those who are interested and those who have a vested interest.
Other World Heritage Sites on our tour included Sukhotai National Park in Thailand, both the old city section of Luang Prubang as well as Vat Phou/Champasak in Laos, and both Hoi An and Hue in Vietnam. We visit these sites because of what they can teach us about people in the past and how they lived, as well as their cultural or natural beauty. We are able to come to these sites because of cooperative efforts stimulated in large part by the World Heritage initiatives. Hopefully, by coming, we contribute to their future existence and positive impact on future generations.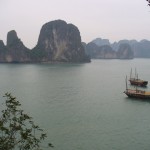 The symbol of the World Heritage program is a box in a circle, symbolizing the harmony of the works of man with the work of nature. Here in Ha Long Bay, the bay itself and its many islets are now much more likely to be a thing of beauty in the future.generations.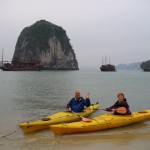 Those visitors too, like us, will be able to kayak in clear waters among these monoliths, marveling at their looming crags and living draperies, enjoy the beaches or explore the many caves hidden within. Sometimes doing the tourist thing can save a place of beauty.
(For more pictures from Vietnam, CLICK HERE to see the slideshow at the end of the Vietnam itinerary page.)