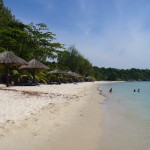 Beyond the Khmer antiquities of Angkor and the recent atrocities of the Rouge there is another face of Cambodia. In the southwest lies the port city of Sihanoukville, named for its politically savvy king who, at age 90, recently passed the throne to his son. Here, there is cove after cove of pristine, white sand beaches forming a crescent that faces the Gulf of Thailand. Islands dot the distance to the west, while to the east are the verdant Cardomom Mountains. This area was previously known mostly to backpackers, but is slowly gaining recognition as a destination, as is evident in the number of new places to stay and eat.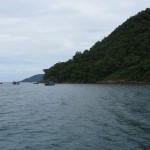 Twenty miles or so offshore lie several islands surrounded by coral reefs teeming with life. The boat trip to Koh Rong Samleom takes two and a half hours and the purpose is to dive or snorkel the reef. One might wonder if this kind of time investment is worth it but we discovered it was. After a disappointingly barren reef off of Costa Rica in January it was a delight to see the color and variety of the coral and fish. Floating over the coral one spots giant clams quickly closing their shells to hide within; blue spotted rays buried in the sand; anemones darting in and out of their concealing coral; crabs wedged in cracks; urchins and sea cucumbers decorating their niches; boxfish; spiderfish; schools of fish of all different colors, shapes and sizes. Just three of us made the two dives that each lasted one hour. Floating along as a peaceful observer the three of us could not believe the hours had passed. Yes, it was certainly worth the time!
Sadly, as with all things that eventually become discovered, the biggest island of Koh Rong has been slated for development over the next twenty years. Soon this hard to get to, quiet, peaceful oasis will become home to resorts, casinos and an airport. It was a privilege to see before the contamination that will certainly follow. Popularity, as the Australians, Egyptians, Costa Ricans and others are discovering, has its drawbacks.
(For more pictures from Cambodia, CLICK HERE to see a slideshow at the end of the Cambodia itinerary page.)