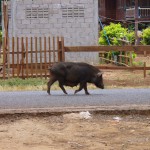 The snide way of starting this post…What's more street smart than the average American 10 year old? Answer: any Lao village two year old child, or its chickens, cows and pigs.
The not so snide way of starting this post…it's astonishing to us how every animal and child in those villages through which cars and all manner of other vehicles move understands how things work. We've sped through towns past all of them, with a bit of honking and chugging, and they all know to stay out of the way. Or perhaps cross when the time is right. Chickens and dogs wait patiently for their moment and then amble to the other side, or stop nibbling something on the road and sidle off as a car approaches.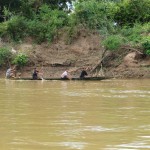 And those street smarts continue into the teens. We've seen children as young as 8 to 10 putter about on scooters, and one was doing this hefting a good size puppy in one hand. And we've seen youngsters running much other equipment around here, including paddling the fishing boats out to the middle of the river to check nets. An Aussie told us about a  perplexed group of countrymen, learning how to steer an elephant themselves while here, who refused to be trained by a mahout that was just 10 years old, but was already a master of the skill.
We've noted already in these posts how those who grow up in tribal villages can live off the land from an early age, mastering the sling shot to kill birds, or turning bamboo into its many uses with a sharp machete, or surviving on those plants which you can eat while avoiding those you can't, or rafting while standing on a seemingly precarious bamboo float ("that's how we learn; we just get on them and do it as kids," said Ek). And clearly it matters if you farm and live off the land.
To be fair, and forgive us for any insensitivity, but we don't really see the ones that fail to make it across the road. And farm children around the world gain skills quickly. But to see the interplay of road and village here in Laos shows a weird street smart choreography that we can't even imagine experiencing in the United States.
(For a slideshow of pictures from Laos, CLICK HERE to go to the Itinerary page and the slideshow at the end.)