Early in the morning, residents of the town rise and prepare food to give the monks of Luang Prabang. They must have the food cooked and ready to distribute as the monks walk along the streets of town starting at 6am. Why? Monks are not allowed to earn money or buy food so depend on the charity of other people for their two meals per day. In return for their charity, believers gain merit in their striving for release from the earthly cycle of woe and progress toward heaven.
The problem in Luang Prabang is that there are too many monks and not enough believers, for many have moved outside the city center as the tourists and their guesthouses have moved in. Fortunately, tourists provide the remedy as well. Along with a throng of other camera whirring visitors, we arose early and took our place alongside tourists and locals on the sidewalk, just outside a posh hotel in colonial style. The monks filed by, dressed as usual in their robes of striking burnt orange, the one primary color on a dark, misty morning.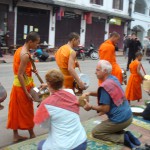 As instructed, we removed our shoes, washed our hands, donned a ceremonial scarf and kneeled down on a small mat. Immediately, we began to distribute the contents of a small basket of sticky rice to the patiently moving cordon of monks, one glob of glutinous rice after another. As each one passed, he pulled off the top cover from a small pot he carried, into which we placed the glob of rice.
An irreverent observer from America might have likened this process to the Halloween ceremony of putting treats in containers, and with similar colors – particularly given the circus-like atmosphere the tourists created.
Not much merit for us, alas, as we were driven to our prepared mat and given our prepared sticky rice basket, doled out rice so fast from the small basket that we were quickly empty though the cordon continued to pass, and were done in under 10 minutes. A contribution is still a contribution, we guess, but we'd not do that again unless we did a bit more to earn our place in line.
(For more pictures from Laos, click HERE to see the slide show at the end of the Laos itinerary.)