Today we did a bike ride around a 10 mile long island called Bang Ka Jao in the middle of the Chao Praya river, Thailand's Mississippi.
We were joined by a Scot from Singapore whose husband worked for McDonald's. He was dealing with supply problems due to the flood and the troubles of 40% of their workers who have been displaced from their homes. Fortunately, she said, the Thais have a strong sense of community and charity, so the homeless are helped extensively by others.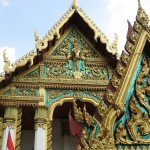 Bang Ka Jao is a protected area of green space and many canals that reminds one of a rainforest. Coconuts and bananas grow here, as well as some plants for the flower markets. There are homes scattered amongst the trees – mostly simple but sometimes grand – and central meeting areas with surprisingly ornate temples and schools.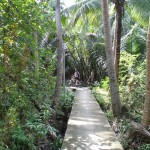 It is all connected by a network of concrete footpaths only three feet wide, elevated about three feet over the watery terrain. While biking, we really had to concentrate not to drop off the pathways, especially at the 90 degree turns that seemed to number in the hundreds as we crisscrossed the island.
To back up a moment, we started our ride in the southeast section of the city. Our guide expertly led us through major streets and an elaborate network of narrow back alleyways in a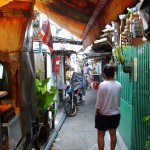 slum section of town where people lived in ramshackle places underneath the freeway and by canals. No one seemed to mind as we biked, or rather biked and braked, pretty much through their homes. The many dogs were equally blase about us. Few bothered to even move, though we once flustered a three legged dog trying to figure us out. Often the children and occasional adults hollered hello in Thai and English though most adults just continued about their business as if we were the most common of experiences.
After jouncing over ramshackle wood-planked bridges, we arrived at the pier for our long-tailed boat ride across the broad river to the island. A long-tailed boat is, first of all, long but features a rudder that extends about half its length again out the back of the diesel motor, apparently for better control of the boat. As we crossed, downtown Bangkok appeared in the north, an ironic contrast to the slums we had just negotiated. This was our only chance to get on the water this trip as the flooding has caused the cancellation of most ferries as well as trips along Bangkok's extensive canals. Boats just can't get under the bridges.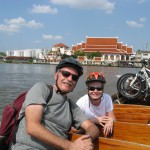 Our return trip was also adventurous as we deftly rode along the thronged major city roads during afternoon rush hour, maneuvering past pedestrians and parked cars alongside commuting scooters and fast-moving cars.  But avoided any mishaps. What an afternoon!
We had been so hot and sweaty from the biking and the humidity that we went in search of beer to take back to the apartment, only to come up empty handed. The local 7-11 (yes, they've taken over as convenience stores here) and grocery store, who both were reported to sell it, didn't have any, perhaps due to the supply problems. Happily we did find a nearby steak restaurant that sold some, and the chilly Singha helped us wind down and cool off.
(For more pictures in a slide show, go to our Thailand itinerary page.)